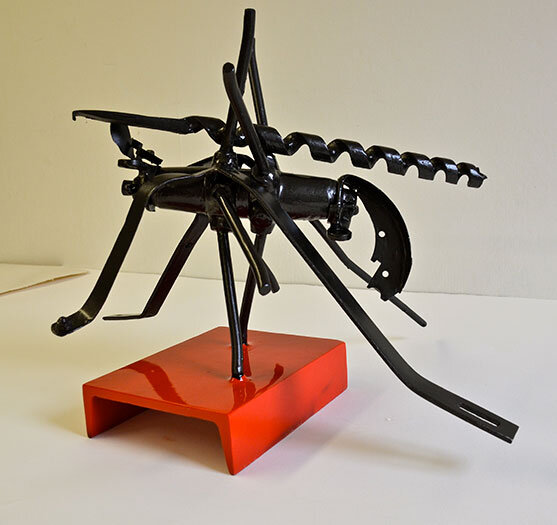 July 22nd, 2023
Carole Eisner's Sculpture Featured In "Mi Parque Mi Tierra"
Carole Eisner's sculpture
Mosquito
will be included in "
Mi
Parque
Mi
Tierra"
 at the Arsenal Gallery in September. The
Arsenal Gallery
is an affiliate of the NYC Parks Department. They are located in Central Park, at Fifth Avenue and 64th Street on the 3rd Floor. They will hold an opening on Thursday, September 14 from 6 PM to 8 PM.
Carole Eisner has worked with scrap and recycled metal for 50 years creating elegant, abstract forms welded in steel. The artist's compositions reflect the unexpected fluidity she finds with metal. She works with "the debris of our civilization," reclaiming and reassembling disregarded fragments of buildings and bridges into art. Eisner received a BFA from Syracuse University. Born and raised in New York City, the artist now resides in Weston, Connecticut. Eisner is represented by Susan Eley Fine Art.
She states: "I work in steel. The strength and permanence of steel and its surprising malleability are essential to my work. Steel gives me the freedom to edit. I can assemble, weld, cut apart and reassemble. I couldn't do this if I worked in a more perishable medium like clay or glass. I use discarded steel, including railroad gears and parts of bridges. I particularly relish scraps—loaded with history and referencing a previous life of functionality. Thus, industrial detritus begins life anew: as abstract art."
Mosquito is made from reclaimed pieces of metal mounted on a bright red base. The work is from Eisner's series of insects and animals that range from butterflies to armadillos. This sculpture is highlighted by its black and red contrasts. The remnants of levers form the wings, a torpedo-shaped scrap the body and a steel cut-out the tail. She adds further dynamism to the form with inserting a corkscrew into her amalgamation.
***
---