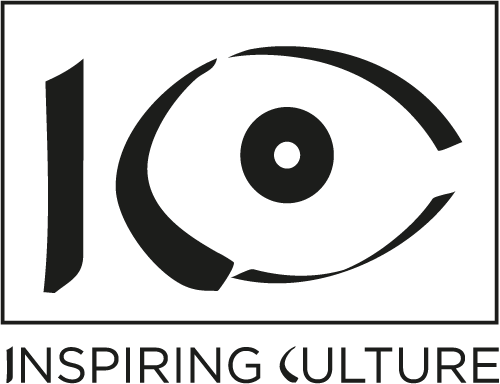 February 17th, 2023
Carole Eisner's Sculpture Featured in "Inspiring Culture"
Carole Eisner is a sculptor and painter represented by Susan Eley Fine Art.
Recently, her sculpture Dali's Mustache was featured in the magazine "Target Global Living" which is part of the arts media company "Inspiring Culture." In this text, Eisner speaks about her practice, methods and inspirations that resulted in the creation of this monumental outdoor metal sculpture.
You may view the full article in this link. Enjoy the great read!
For more information about Carole Eisner's practice, please visit her artist page on SEFA's website.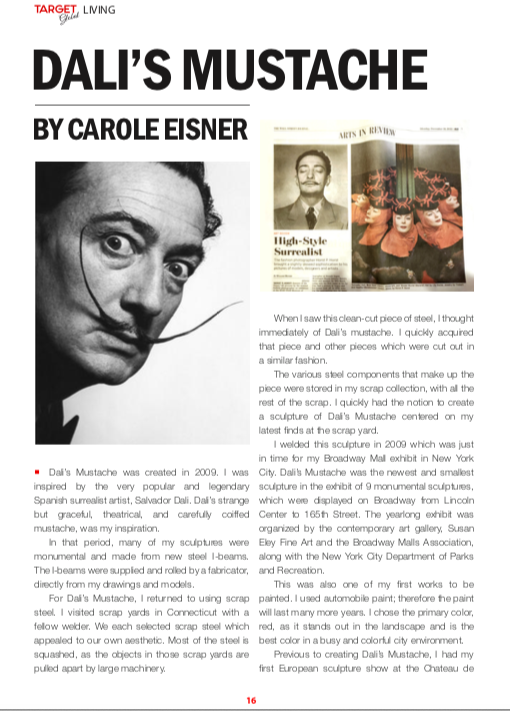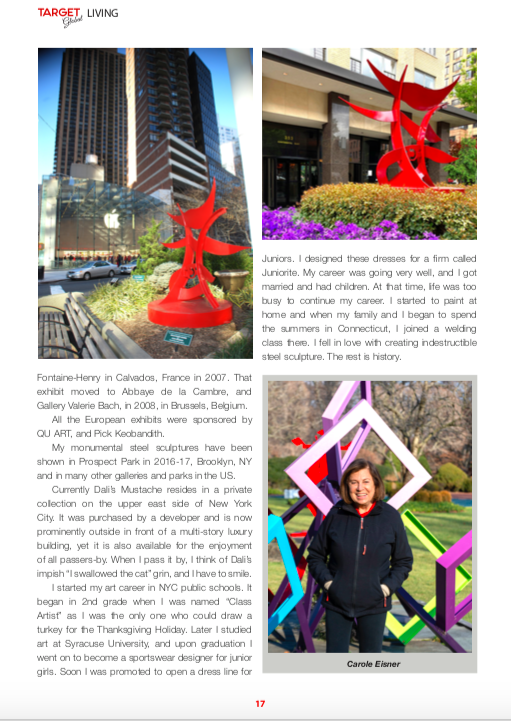 EXCERPT:
I created the artwork Dali's Mustache in 2009. It is a large-scale outdoor structure made of welded steel and painted vibrant red. The sculpture was inspired by the legendary Spanish Surrealist artist Salvador Dali—specifically his strange, yet graceful and theatrical mustache. In that period, many of my steel sculptures were monumental and made from new rolled I-beams—a technique that I conceived of in order to turn the hardest of metals into the most lyrical forms. The steel I-beams are supplied and rolled by a fabricator, and their designs are directly based on my plans and models. For Dali's Mustache, I returned to my previous technique of using scrap steel. I visited scrap yards in Connecticut, along with a fellow student. There we each selected discarded steel that appealed to our individual aesthetic tastes. Most of the steel was squashed and dilapidated, since the objects in those yards had been dismantled by large industrial machinery. However, when I saw this clean-cut piece of steel—I thought immediately of Dali's Mustache. I quickly bought that piece, as well as other pieces which were cut out in a similar fashion.  I welded this sculpture in 2009—just in time for my Broadway Mall exhibition, where nine of my sculptures were displayed on Broadway from Lincoln Center to 165th Street. Dali's Mustache was also one of the first works that was painted. I chose the primary color as red because it stands out against the landscape. It also was the best hue to simultaneously contrast and compliment a busy and colorful city environment.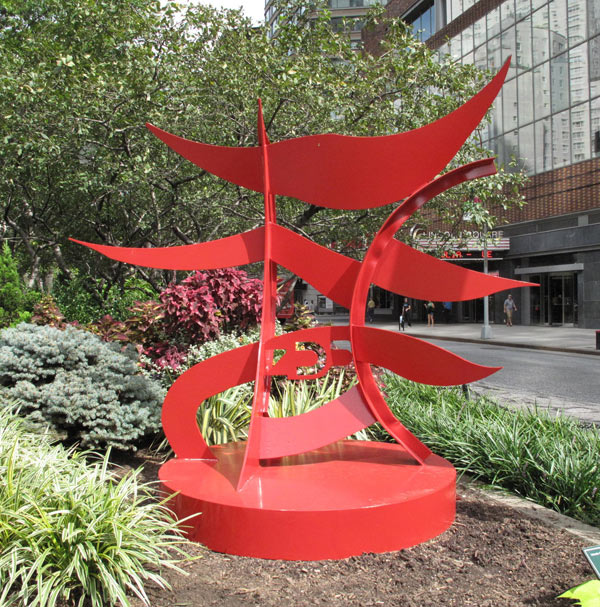 Image: Dali's Mustache (2009), Painted welded steel, 73 x 87 x 48 inches, Courtesy of the Artist and Susan Eley Fine Art, NY
---