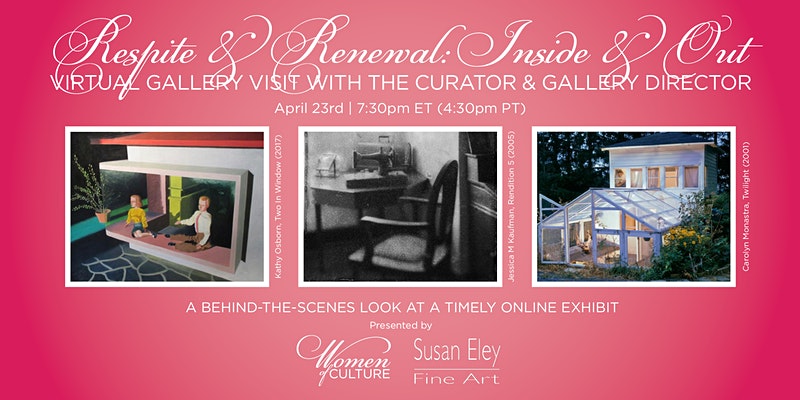 April 14th, 2020
Women of Culture Hosts Virtual Gallery Visit with Curator & Gallery Director
Get a behind-the-scenes look at this beautiful online exhibit and learn more about the pieces, artists, concept & process behind it.
You are invited to join arts-based social networking community, Women of Culture, for a guided virtual gallery visit and intimate talkback with Susan Eley, Founder & Director of Susan Eley Fine Art, and Artist & Curator, James Isherwood.
This is a unique opportunity to behind-the-scenes look at the current online exhibit, Respite and Renewal: Inside and Out, gaining a better understanding of how gallerists and curators work together to present group shows like this one , whether virtual or in-person. You will learn more about some of the 30 artists featured and have a chance to ask questions of both the Gallery Director and Curator. This is a great session for anyone who:
is interested in contemporary art
wants to learn more about the curatorial process
resonates with the concept of the exhibit
wants a behind-the-scenes look at running a gallery, particularly during this time of physical distancing
As with all of Women of Culture's virtual connection sessions, there will be time to connect with the community and get to know the fellow attendees at the start of the call.
All registrants will receive a Zoom link a day before the session, as well as a recording after the session ends.
Details:
7:30pm EST (4:30pm PST) | Welcome & community connecting
7:50-9pm EST (4:50pm PST) | Virtual exhibit 'walk-through', Q&A and discussion
RSVP: eventbrite.com
"Our homes are rural, suburban and urban. Time spent in and around them present our daily life patterns while containing greater meaning we often forget. They are places to rest, share and create. We convene with family and friends marking celebrations and engaging our minds. Within these dwellings reliable escape hatches from the world exist in quiet rooms, garages and backyards. The home heeds our call for respite and renewal.
The artworks comprising this exhibition reflect the many desires, feelings and activities in the places we live, both shared and in solitude. They bridge the familiar and ephemeral, reminding us of our reliance on the places we inhabit every day."
Participating Artists: Angela A'Court, Seongmin Ahn, Caroline Blum, Heather Boose Weiss, Karin Bruckner, Charles Buckley, Rachel Burgess, Michael Eade, Carole Eisner, Lisa Fellerson, Amber George, Allison Green, Charlotta María Hauksdóttir, Francie Hester, Jessica M. Kaufman, Rachelle Krieger, Emily LaCour, Chase Langford, Kim Luttrell, Danelle Manthey, Emily Miraglia, Carolyn Monastra, Nazanin Noroozi, Leah Oates, Kathy Osborn, Maria Passarotti, Lisa Pressman, Alicia Rothman, Ruth Shively, Liz Rundorff Smith and Fumiko Toda
---