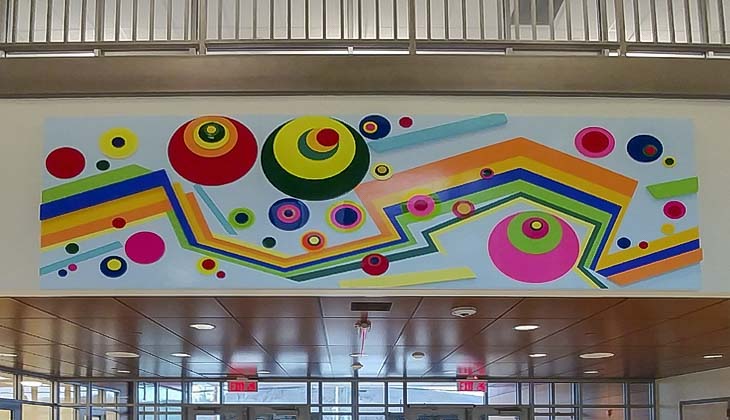 Happy World by Soonae Tark installed at the Barack H. Obama Magnet University School
January 24th, 2020
3 New Murals by Soonae Tark at the Obama Magnet University School in New Haven, CT
Artist Soonae Tark's murals titled Happy World are now installed at the newly built Barack H. Obama Magnet University School in New Haven, CT.
In 2018, an open call for art for the new school was announced. More than 60 artists responded, sending their qualifications to the city's artist registry. From these and previous entrants, a jury selected three artists to advance to the next stage. The city then invited the three finalists to create site-specific proposals for the school. The artist whose proposal is chosen by the jury will be awarded the commission.
Soonae Tark was one of the three artists to submit her proposal, Happy World, a group of three colorful relief murals of geometric shapes that draw from the architecture of the building and nearby landscape. Tark proposes three murals for the upper walls of the lobby in bright colors like those of the building's interior finishes.
Some of the forms would be painted directly onto the wall in acrylic and others laser cut from wood or plexiglas. The three-dimensional forms would be mounted in varying distances from the wall to add depth. One of the compositions, set against a light blue background, consists of an angular arrangement of lines evoking West Rock Ridge and circles of varying sizes, placed to create a sense of motion. Her past work includes a glass mosaic mural commissioned by the MTA for the Buhre Avenue 6 train station in the Bronx and a two-story mural for a public school in Queens, N.Y.
About Barack H. Obama Magnet University School
Barack H. Obama Magnet University School, now under construction on the campus of Southern Connecticut State University, is expected to open in 2019. The building, which succeeds Strong 21st Century Communications Magnet & Lab School on Orchard Street, will be the first school in New England to be named for former president Obama. The school will serve nearly 500 students in grades pre-K through four.
New Haven was the first city in Connecticut to require that one percent of the city's construction costs for all new and renovated public buildings be allocated for commissioned artwork. Since 1981, the program has commissioned over 30 works of art.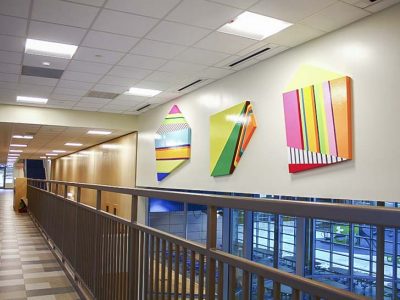 Read more about the selection process on newhavenarts.org
---