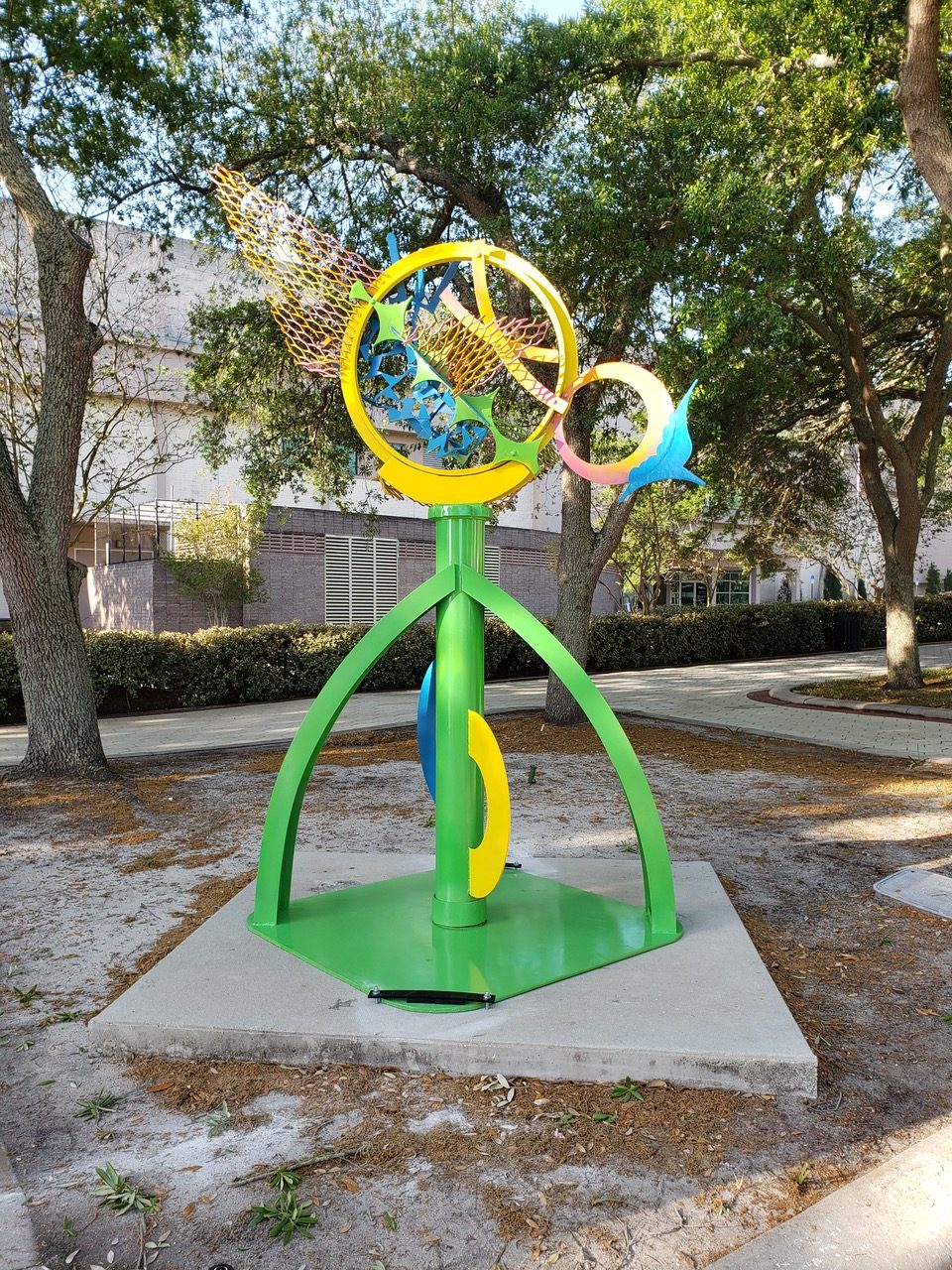 March 25th, 2021
Carole Eisner's "Birdsong" in Lakeland, FL
Carole Eisner was recently selected as one of twelve artists to participate in the 21st Florida Outdoor Sculpture Competition in Lakeland, Florida. The monumental sculptures by artists from all over the United States will be on display on the Lemon Street Promenade now through the end of 2021. Many may not be aware that the sculptures found on Lemon Street are a part of a special exhibit of sculptures that rotate annually. This year's competition has brought a diverse array of sculptures to those blocks of downtown Lakeland.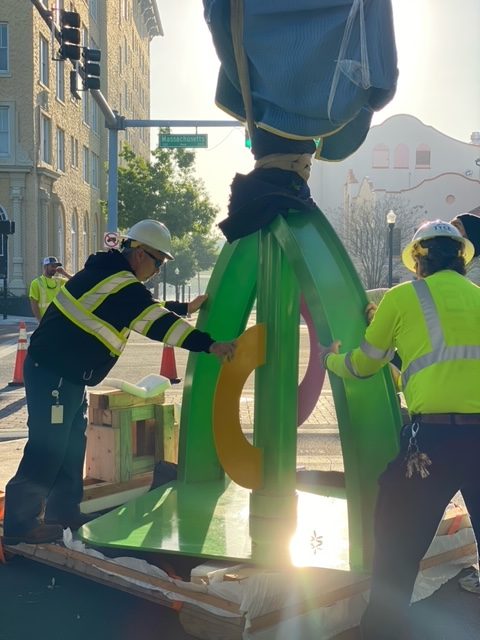 Listen below to hear Carole speak about what Birdsong means to her and how she makes her sculptures.
Hello! I'm Carole Eisner, a sculptor and a painter. I live in New York City and Connecticut, where I have my sculpture studio.
This sculpture is called Birdsong, it's part of a series of colorful sculptures painted with automobile paint. I chose to use multiple colors on Birdsong, as if it were a true painting. I wanted to express the whimsy and playfulness of the flight of a bird during springtime.
I weld my sculptures from scarp steel, such as parts of bridges, railroad wheels, auto parts, crushed and twisted metal and bolted I-beams. I choose these discards at a scrap steel yard in Connecticut. I enjoy using this metal, which is loaded with industrial history and a previous life of functionality, to create sculpture. Thus, industrial detritus begins life anew as abstract art. I begin a sculpture by looking through all my scrap to choose some pieces that will work well together. I arrange them, adding and subtracting pieces of steel, as I construct my sculpture. It is definitely an impulsive procedure, as one would design a collage. Many of my sculptures have a similar composition, of a tall, vertical pipe, topped by a circular piece. Then I continue to add, enhance and animate the structure as I have here with the fanciful, colorful elements at the top of Birdsong.
I am always interested in how viewers approach my work. Does the work speak to you, the audience? Do you see what I see? What attracts you? Is it a universal language? The vibrant colors? A recognizable form? A new technique? Or something else, that has a special meaning to you?
I have exhibited my sculptures throughout New York City; on Broadway from 64th Street to 168th Street, at the Tram Center in Midtown and at Prospect Park in Brooklyn. My sculptures have been shown all along the East Coast, from Albany to Miami, to internationally at a chateau in Normandy, France, in Brussels, Belgium and in China.
I am so pleased to have Birdsong exhibited here, in Lakeland, Florida where the birds sing, even in the winter and the colors are always vibrant! I am grateful to the city of Lakeland, its program coordinator, Beth Sherling, and the Florida Outdoor Sculpture Competition for selecting Birdsong for this exciting opportunity. Thank you all!
Carole Eisner
Lakeland Parks & Recreation
---