Kathy Osborn holding up 'Restaurant' (2018)
May 7th, 2020
Artists About Artists #1: Chase Langford Interviews Kathy Osborn
Chase Langford interviews Kathy Osborn about her work in the first of SEFA's new video series, 'Artists About Artists'
About Kathy Osborn: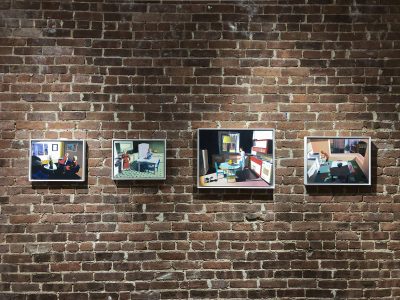 Kathy Osborn paints highly detailed, interior scenes, inspired by imagery from the Post-War era of the 1950s and 60s. Osborn's multi-step process begins with a meticulous arrangement of dollhouse figures, furniture and household objects, drawn from her personal collection. She then photographs the scene multiple times and selects the preferred orientation to paint. The resulting works are stark, photographic narratives that haunt and disorient the viewer.
About Chase Langford:
Starting out his career as a cartographer, Langford evolved into a full time painter as he realized that his maps were becoming increasingly abstracted. Each painting begins with the sense of a place. But as memory of visited sites constantly shifts, so does Langford's direction as he changes course to meet each new color or compositional challenge. The artist is from Pontiac, Michigan. He received a BA in Geography, UC Santa Barbara, and currently lives in Beverly Hills, CA.
Watch the full interview here.
---