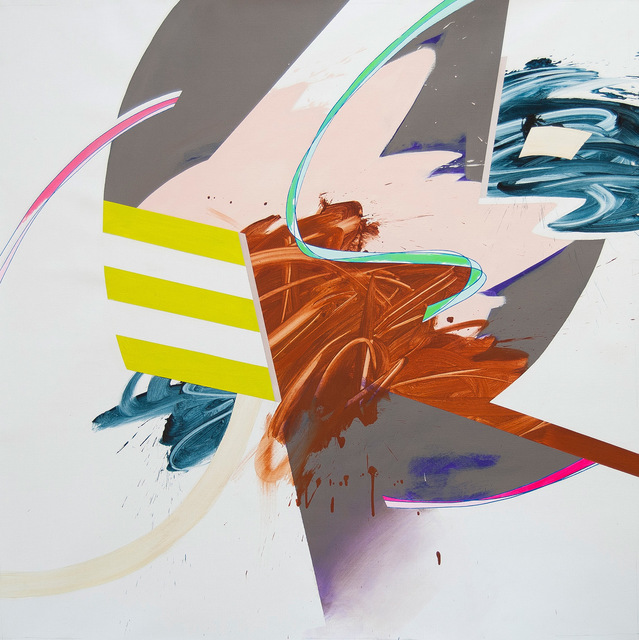 Carlos Puyol. Untitled. 2019. Acrylic on canvas. 59″ x 59″ x 1″
January 4th, 2020
Broken Reality by Carlos Puyol in Maastricht, Netherlands
We are delighted to announce the opening of Broken Reality, Carlos Puyol's second solo exhibition with PontArte Gallery in Maastricht, Holland (Jan. 4 – Feb. 5). Puyol, represented by both PontArte and SEFA, was recently featured in our show, The Colors of Jazz (2017). (SEFA and PontArte co-published a catalogue of the same name).
In Puyol's recent work, he investigates the subjective concepts of time and space. His paintings are an expression of this sense of a fragmented reality, reflected in graphic, geometric elements, boldly juxtaposed with expressive, looser areas on the canvas. In recent years Puyol has incorporated older paintings into new compositions, by cutting and sewing past work onto new canvases, in an effort to connect different realities and time frames.
Puyol was born in Argentina in 1966 and lives and works in Barcelona, Spain. He has a BA from the University of Buenos Aires, Argentina and holds a MA from the University of Barcelona (2005).
The exhibition runs from January 4th until February 5th 2020.
Opening reception: Saturday January 4th, 4:00 PM
Gallery hours: Thursday-Friday-Saturday 11:00 – 5:00 and by appointment.
Kapoenstraat 29, Maastricht
Preview the works on PontArte's ARTSY page here.
---