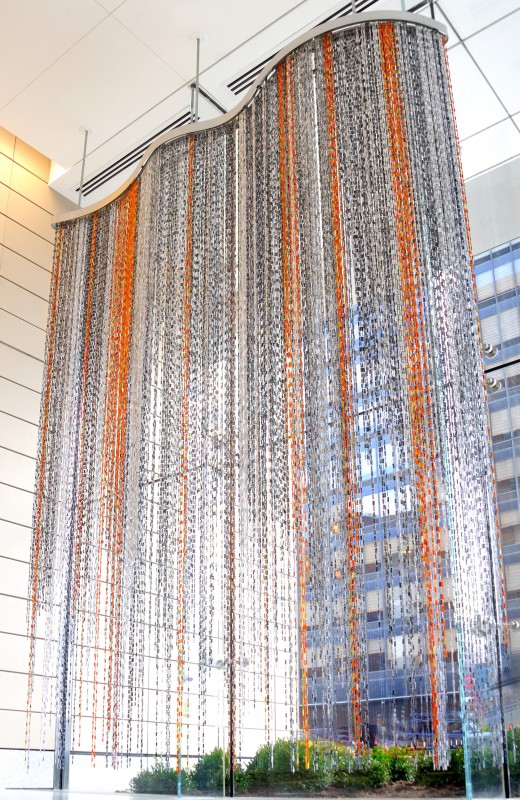 February 1st, 2016
"Wordfall" at Memorial Sloan Kettering
We are pleased to announce the unveiling of Wordfall, a dramatic site-specific installation by Francie Hester and Lisa Hill at Memorial Sloan Kettering Cancer Center, New York City. The artwork is comprised of 80,000 paperclips, each hand wrapped in paper and linked to create hundreds of strands that cascade from ceiling to floor. Wordfall was acquired by MSK for the lobby of its new Josie Robertson Surgery Center, 1133 York Avenue at 61st Street. The permanent installation has a beautiful story to tell.
Text is integral to Wordfall. The catalyst for this project was the poetry of Brendan Ogg, an aspiring writer who was diagnosed with a brain tumor at the age of 19. In the face of his illness, Brendan created a collection of poetry entitled "Summer Becomes Absurd," which reveals the energy of youth, the wisdom of one who has met and acknowledged mortality and an embrace and celebration of life. Brendan succumbed to brain cancer at the age of 20.
Wordfall weaves together six of Brendan's poems from this collection as a tribute to his life and spirit. More than 300 people
 across 50 states and 2 continents,
 who ranged in age from 10 years old to 91 years old, and were family, friends, teachers and strangers,
 some who had survived cancer,
 others who were cancer caregivers, healthcare workers and the homeless,
 wrapped Brendan's poems, using 60 pounds of paper around the 80,000 paper clips.
A new community emerged as those who wrapped connected through shared stories of sorrow and of hope. The wrapped paperclips transformed the written work, so easily lost, into a living memorial — linkages of words, random at times, but with powerful and passionate messages.
Wordfall hangs from a curved aluminum truss that allows the strands to drop as a waterfall, gracefully and organically. The work is primarily black and white, although bits of amber and gold Chinese ceremonial papers are woven throughout the piece to symbolize and celebrate Brendan's 20 years of life.
Ten per cent of the proceeds from Wordfall will go to Brendan Ogg's Memorial Fund, which supports programs that focus on art and healing, young adults with cancer and other issues that Brendan cared about.
With Special Gratitude: 
The Ogg family
, Howard Connelly, engineer and fabricator, Wordfall is installed in front of a floor to ceiling window and can be viewed from the street or within the lobby.
Memorial Sloan Kettering Cancer Center/Josie Robertson Surgery Center
1133 York Avenue (at 61st Street)
NYC, New York 10065 
---