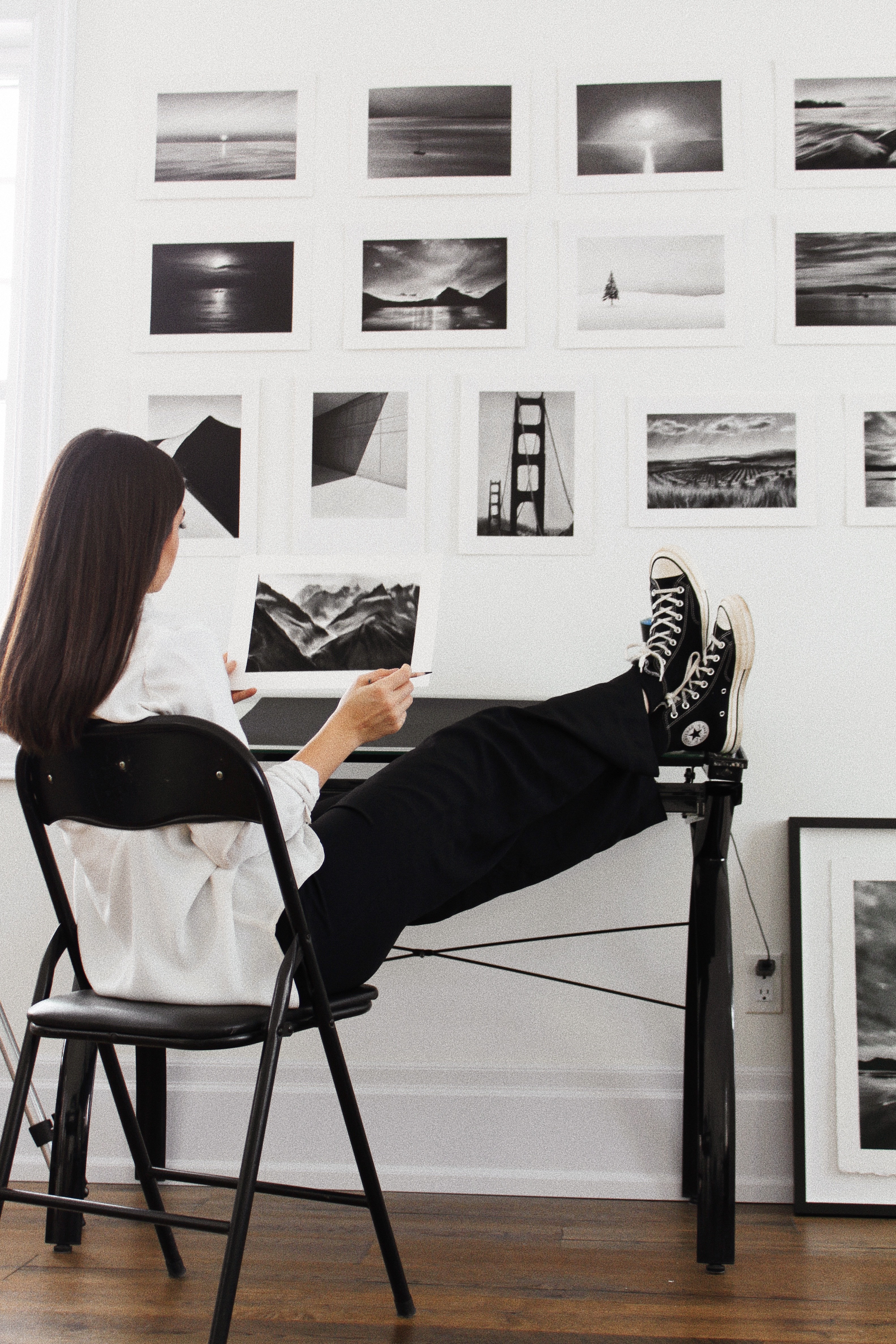 Katherine Curci in her Toronto studio
March 1st, 2021
Katherine Curci's interview with Beware the Artist
Katherine Curci was recently interviewed by Jeremy Jirsa from the Beware the Artist podcast.
Watch the full video below to learn more about Curci and her work.
About Katherine:
Katherine is a multidisciplinary artist from Toronto, Ontario. Her fine art education began in high school where she attended Cardinal Carter Academy for the Arts for Visual Arts. She completed her BFA in Drawing and Painting at OCAD University in 2014 and received a Certificate of Advanced Visual Studies at OCAD's Self-Directed Studio Program in Florence, Italy. In 2017, she furthered her creative education at CMU where she studied Special Effects Makeup Art and Design for TV and Film.
Katherine's current body of work focuses on charcoal drawings, premiered in This Land., at the start of the pandemic. Working from photographs, Curci has completed some 75 seascapes and landscapes. Each scene is fully realized and highly nuanced—rendered in such expert detail that her works can often be perceived as photographs. Featured imagery includes specific places throughout her home country of Canada, as well as in regions of South America and Europe. Carefully manipulating the pressure of the charcoal, Curci achieves all tones—from the deepest, velvety black to pure white highlights, while encompassing all tonalities in between. She captures sfumato cloud covers and misty seas, as well as highly detailed and densely populated tree stands.
About Beware the Artist:
In society there has always been a mythos around artists and the alchemy of their work. This project explores the factors that go into the creative process. By focusing on conversations about artists' methodologies, influences, studio practices and their everyday lives, "Beware The Artist" creates a genre crossing dialogue that bridges gaps between different artistic media. Guests range from curators, to musicians, to painters, to craft-workers, to choreographers, to chefs, to sculptors, and the list goes on! Stay tuned for future interviews, artist spotlights and much more!
Follow Beware the Artist on Instagram
---