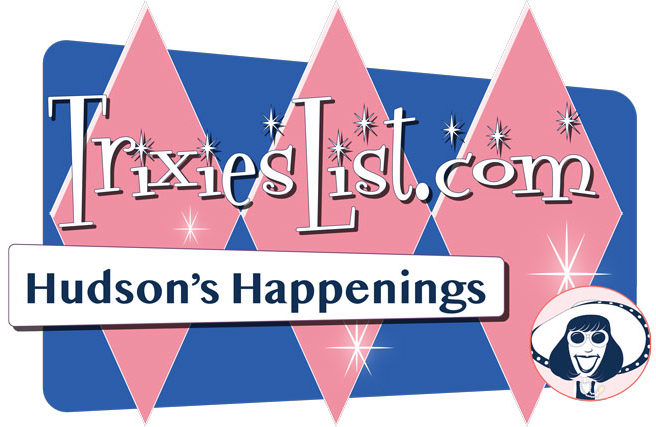 September 11th, 2020
Katherine Kim writes about 'Interplay' on TrixiesList
September 11, 2020 by Katherine Kim
HUDSON, NY – There is a new kid on the Hudson art block–Susan Eley Fine Art with a wonderful figurative painting show called Interplay and it is definitely worth a visit. There is a pandemic yes, but everyone can agree that museums and art galleries, aside from exhibition openings, are historically easy places to social distance -lots of space to yourself and no one is allowed to touch anything. Most art these days is viewed on a digital device. But when you buy art, you don't take a picture of it and admire it on your phone. You admire it on your wall, in person. Art that is mostly about composition, like goofy faces or illustrations are fine viewed on a mobile device. The works in Interplay have nuances and colors that a digital device will never be able to pick up. These works deserve a visit and are on view until September 20, 2020.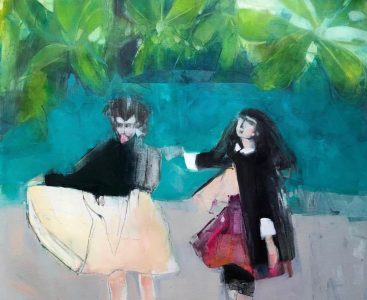 If you don't see Interplay in person, you won't be able to appreciate the way artist Ruth Shively plays with paint in her brushy dreamlike scenes of Sunday Afternoon, Family Time and my favorite, Girls in the Tropics. In Shively's works, there are indications of figures that evoke innocuous moments in a serene scene. End of the Party is the only painting with a single figure and that figure has more detailed facial features where the gesture and composure give a strong pensive sense. There are even more subtle indications of figures in Steve Singer's watercolor beach scenes which may make some people gasp for a brief second after viewing an image of a crowded beach where no one is social distancing.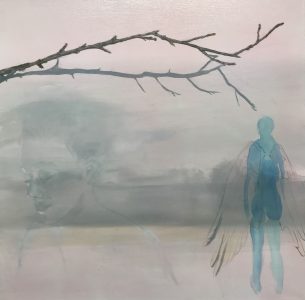 Silvia Mamani and Carole Eisner's works, are not recent which I normally don't except to see in a contemporary art gallery. I go to an art gallery as opposed to a museum to see what artists are doing today. I can only assume there is a curatorial purpose to adding these works. It also shows that artists will always study the human figure. Mamani's works on paper are strong gestural studies of movement. If you like works about dance and movement, you'll definitely find yourself drawn to Mamni's Escape and Melodia. Eisner's acrylic paintings, such as Habitat and Still Life with Teapot are strong gestural compositions as well but also study space between figures much like sculptors do.
An unexpected medium is collage. Barbara Strasen's works are acrylic and ink paintings on Yupo paper but the figures are not painted. The full figures are collaged in a single piece. In all fairness, according to the curatorial statement, this show is about "figurative" painting and not "figure painting." Yet, aesthetically, Strasen's works Rococo Modo and Deconstructed complement the show's dreamlike theme. They are placed next to Nan Ring's very dreamy almost pastel looking oil painting Of the Broken.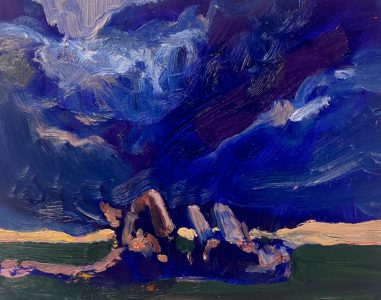 Emily LaCour's figure paintings are interesting compositionally because all the figures appear to be lying down which give all her works a very different feel. These works are all stunning oil paintings. I love the color of acrylic paintings but there is brush work in oil paintings that just doesn't compare to anything else. And I can't emphasize enough, oil paintings need to be viewed in person.
Out of left field comes Kentaro Hiramatsu's Park-R-1. Hiramatsu's semi-abstract work is super cool but aesthetically clashes with all the other works in the show. Park-R-1 is a very meticulous and busy work of overlapping figures cycling which you'll get if you're up close but an abstract work when you stand back from the work.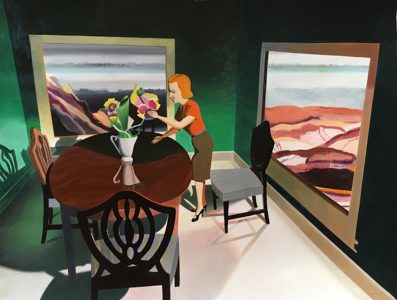 Finally, there are the narrative candid snapshot scenes of Hudson artist Kathy Osborn. These are oil paintings mostly on paper mounted on board. They are strong compositions about the relationships between people. Each painting tells a story not only by how each scene is laid out, but also by the play with light. There is a strong light in each scene and you'll find that it has a co-starring role with the narrative composition. Osborn will be at the gallery for a talk on Saturday, September 12.
The figurative works in Interplay are nuanced and subtle and these qualities do not translate well onto a digital device. This means they should be seen in person. They are on view until September 20, 2020. See the gallery website for the most up-to-date information.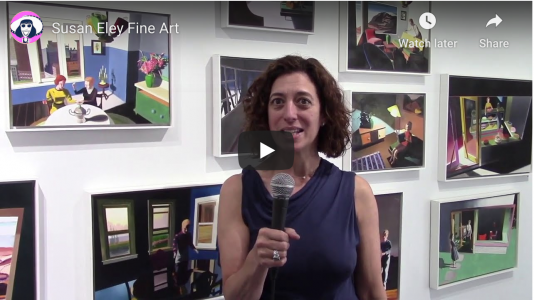 Susan Eley Fine Art is located at 433 Warren St, Hudson, NY and is open Thursday – Monday, 11AM – 5PM. This is a satellite location. The main gallery is on the Upper West Side in NYC, 46 W 90th, 2nd Floor. Currently open by appointment only.
View full post on TrixiesList.com
View event listing here.
---