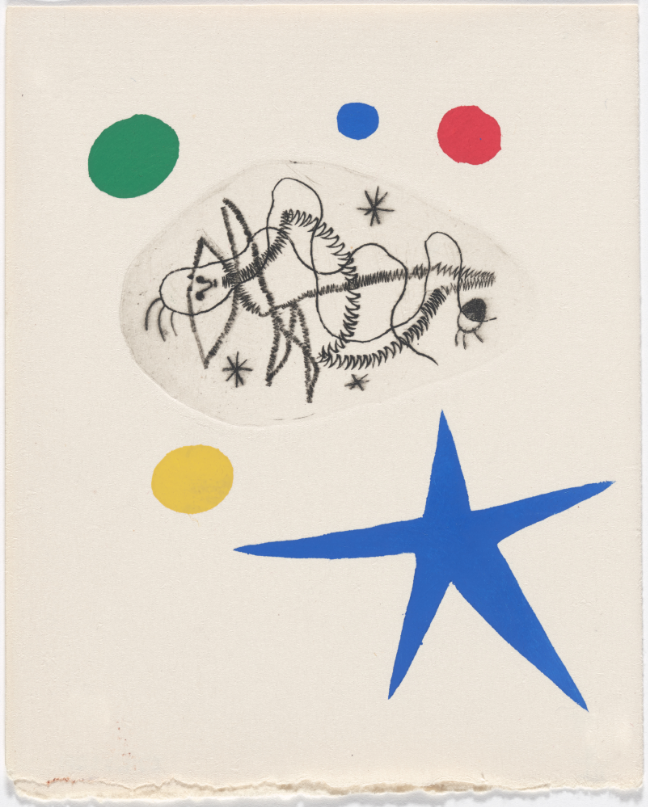 Joan Miró Frontispiece from Le Désespéranto (Desesperanto): Volume III from L'Antitête (The Anti-Head) 1947–49, published 1949
June 19th, 2019
A Visit to Birth of the World on its Final Day
MoMA closed on June 15 for a four-month renovation.  I had been planning to visit the Joan Miró exhibition "Birth of the World", which I happily caught on the final day. This compact show of 60 paintings, drawings, sculptures and book illustrations, created between 1920 and the 1950s, demonstrates a sort of concise coming of age of this Spanish Catalan artist.  Drawn mostly from MoMA's permanent collection, each artwork reflects a different moment in Miró's evolution towards his signature style of dream like imagery, drawn over colorful backgrounds.
As many artists do, Miró tried on various artistic styles, eventually shedding them to form his own. Matisse can be seen in the whimsical book illustrations, Van Gogh in the hyper-colored portrait of Enric Cristòfol Ricart, Picasso in the fragmented features in his later portraiture.
This all makes me wonder at the possibilities for cross-fertilization before the advent of the digital age, and marvel at the ease with which artists today can share and sample techniques and styles, trading visual ideas and bathing in each others' aesthetic spirit. No one makes art in a vacuum.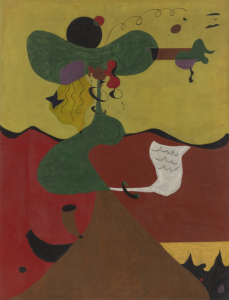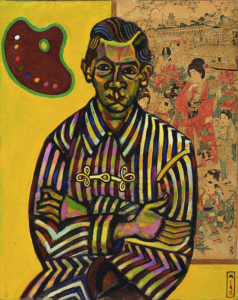 ---