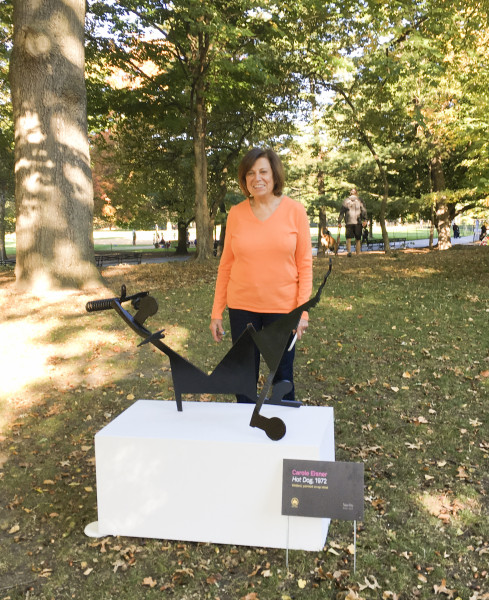 November 17th, 2017
"It's Happening! 50 Years of Public Art in NYC Parks" Features Eisner Sculpture
This year NYC Parks is celebrating the 50th anniversary of its Art in the Parks program! Since its creation in 1967, Art in the Parks has featured over 2,000 works of art.
On Saturday, October 21, NYC Parks transformed Central Park into a stage, museum, and art studio for a free day of public art to celebrate this milestone. There were free art exhibits, performances, and hands-on art workshops in Central Park's beautiful East Pinetum field.
More than 100 artworks, workshops, and performances took place throughout the day.
Carole Eisner was invited to present her sculpture "Hot Dog" to celebrate this milestone.
Eisner has had three exhibitions through Arts in the Parks. In 2009, nine of her sculptures were installed in the Broadway Malls from West 62nd to West 168th streets; in 2013 her iron and steel sculpture "Hosea" was displayed in Tramway Plaza, and last year four of her monumental works were exhibited in Prospect Park.
We are honored to be included in NYC Parks' 50th anniversary, and we thank them for their many years of supporting public art!
---