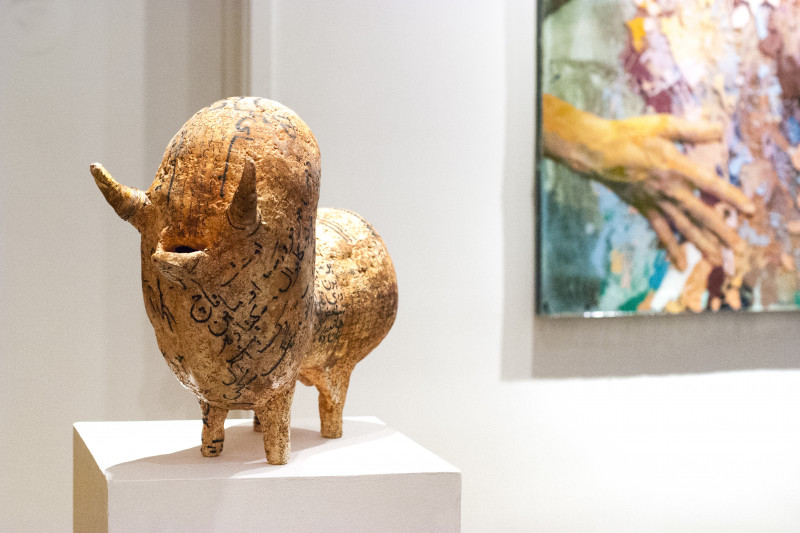 June 27th, 2017
Huffington Post: Art Of Iranian Immigrants Reveals The Creative Potential Of Inclusivity
Thank you to the Huffington Post and Priscilla Frank for this wonderful article on our current show, Beyond the Ban: Contemporary Iranian Art. Frank interviews curator and featured artist Nicky Nodjoumi on the importance of bringing the diverse voices of these artists to the forefront, especially during these uncertain political times.
"In Iran, they don't like my paintings," Nodjoumi said. "If I go back to Iran, they might arrest me. When someone actively and openly criticizes the regime or asks for more tolerance, they don't like it. It might be a problem for someone trying to go back and forth between Iran and the U.S."
And yet he's troubled by the threats of censorship currently confronting artists in America, as well. "I'm very concerned about freedom of speech here," Nodjoumi said. "I'm here as an Iranian American to be part of that act of activism."
"Beyond the Ban," then, tells no singular story and advances no particular agenda. In paintings, photos and prints, the works interweave Iranian artistic traditions with contemporary Western trends and innovations. The show hopes not only to encourage reflection on how we perceive Muslim-majority nations under Trump administration, but to emphasize the role art can play in uncertain political times.
Read the full article here
---
Beyond the Ban is a group exhibition showcasing the work of leading Iranian artists based in the United States. It features painting, photography and prints by such luminaries as Shirin Neshat, Nicky Nodjoumi, Nahid Hagigat, Shoja Azari, Shahram Karimi, Jason Noushin, Afshin Naghouni, Nazanin Noroozi, Raha Raissnia and Hossein Fatemi.
Proceeds will benefit the Center for Human Rights in Iran, a non-profit based in New York City. The exhibit demonstrates the rich stylistic and thematic variety of art being produced today by the vibrant community of Iranian artists living in the US.
If you'd like to make a donation to the Center for Human Rights in Iran, click here
---