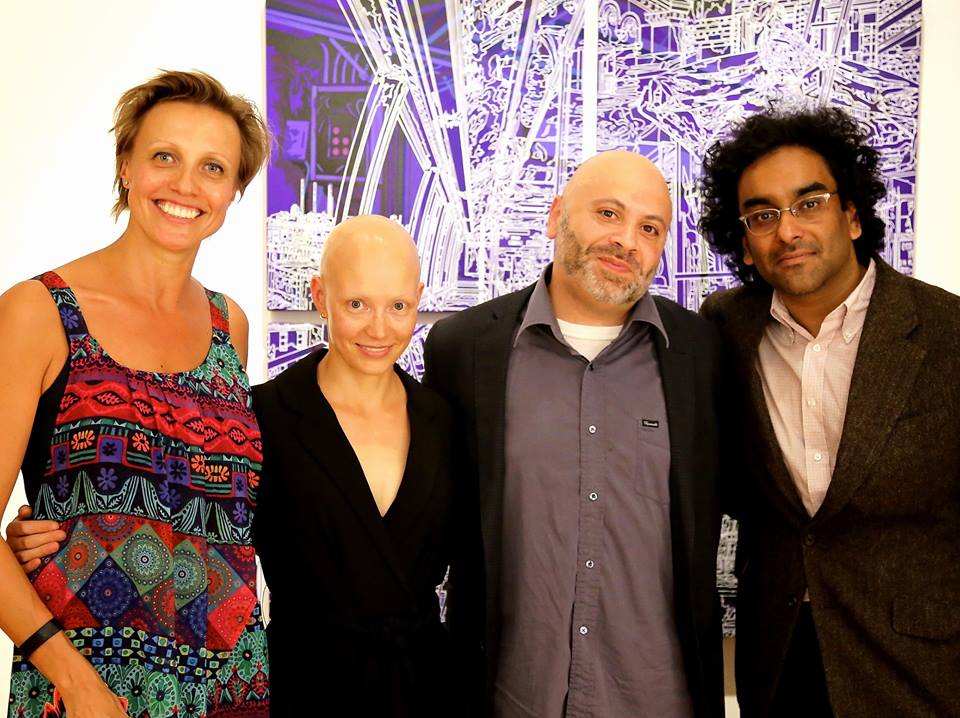 From left: Vica Miller, Helen Phillips, Robert Lopez and Mark de Silva
June 30th, 2016
Vica Miller Literary Salon at SEFA
On Thursday, Vica Miller Literary Salons held an event at Susan Eley Fine Art with readings from Helen Phillips, Robert Lopez, Mark de Silva and Vica Miller
About the Readers
Helen Phillips is the author of four books, including the recently released short story collection Some Possible Solutions, the novel The Beautiful Bureaucrat (a New York TimesNotable Book and a finalist for the L.A. Times Book Prize and the NYPL Young Lions Award), and the collection And Yet They Were Happy (named a notable book by The Story Prize). She is the recipient of a Rona Jaffe Foundation Writer's Award and the Italo Calvino Prize. Her work has appeared in the Atlantic, the New York Times and Tin House, and on Selected Shorts. An assistant professor at Brooklyn College, she lives in Brooklyn with her husband and children.
Robert Lopez is the author of two novels, Part of the World and Kamby Bolongo Mean River, and two story collections, Asunder and Good People. He teaches at The New School, Pratt Institute, and Columbia University.
Mark de Silva is the author of the debut novel Square Wave, which was released by Two Dollar Radio in February of 2016. He holds degrees in philosophy from Brown (AB) and Cambridge (PhD). After several years on the editorial staff of the New York Times's opinion pages, he now freelances for the paper's Sunday magazine, while also serving as a contributing editor for 3:AM Magazine.
Vica Miller grew up in St. Petersburg (Russia), came to NYC by herself at the age of 20 and has been a New Yorker since. George Plimpton called her a writer, and she believed him. Her first novel, Inga's Zigzags, was published on May 14, 2014 by Ladno Books.
When not writing fiction, Vica runs communications for 
DataArt
, a global technology consulting firm. Previously, she was a magazine editor, sports marketing director, multimedia producer, TV reporter, art publicist, and CEO of her own multimedia firm.  She launched a New Media course at Hunter College (CUNY), now Integrated Media Arts MFA program, and later taught Public Relations there.
She is an excellent swimmer, a beginner paraglider and a mother of two. She's also a big fan of burlesque and has synesthesia, which makes her life full of color.
---