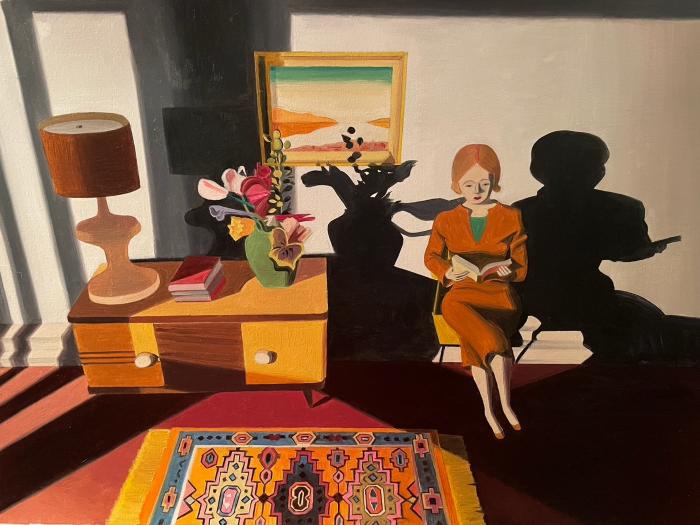 Posturing
Kathy Osborn & Bradley Wood
February 16 – March 25, 2023 | Opening Reception: February 16, 2023
NYC
Susan Eley Fine Art is pleased to announce the opening of Posturing, an exhibition of recent paintings by Kathy Osborn and Bradley Wood. This exhibition will be on view at SEFA NYC from February 16 - March 25, 2023. There will be an Opening Reception on Thursday, February 16th from 6 - 8PM with both artists present.

This is the third exhibition at SEFA's new Gallery on the Lower East Side since our relocation from our Upper West Side space—founded in 2006 by Susan Eley. SEFA NYC is located at 190 Orchard Street, just south of Houston Street.This space is in the heart of the LES arts district, and we are honored to join this vibrant creative community.

The word "posturing" is defined as calculated or affectatious behavior: aware of oneself and projecting a deliberate, specified image. For Kathy Osborn—her posturing is generated from a stage, a scene. She collects vintage dollhouses and sets up intricate vignettes in her studio. Each is precisely lit to add drama to the images she produces. Characters reside within; their relationships are the mystery. There is an Americana vibe–household interactions from the 1950s and 1960s. For Bradley Wood—his posturing is his stated approach to his paintings as if a playwright. He crafts what is "going on in the mind, or internal monologues" for each subject, which he considers "actors." While the figures in Wood's paintings remain anonymous, their energy is palpable—alluding to the moods, reactions and impulses that live within us all, those inner worlds that thrive just beyond the surface.