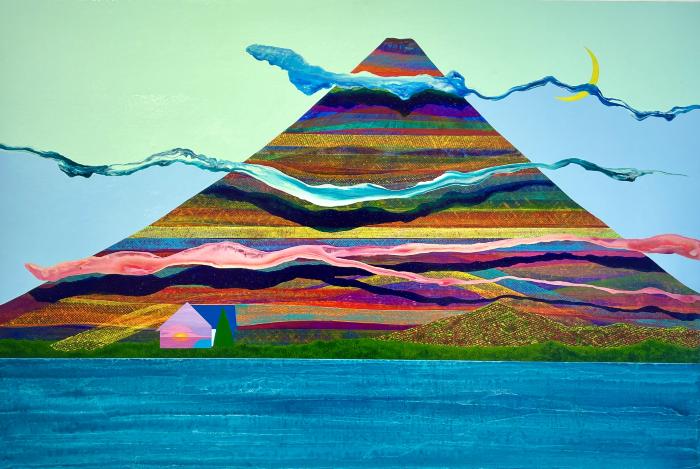 Downtown Debut
James Isherwood & Lisa Pressman
November 3 – December 21, 2022 | Opening Reception: December 1, 2022
NYC
Susan Eley Fine Art is very pleased to announce the relocation of our NYC Gallery. SEFA is moving from the Upper West Side to a new space in the Lower East Side. Our new address is 190 Orchard Street, just south of Houston. This space is in the heart of the LES gallery district, and we are honored to join this vibrant arts community.

Downtown Debut is a reflection of the diversity of Susan Eley Fine Art's dynamic artist roster. James Isherwood and Lisa Pressman have worked with the Gallery for many years, allowing the creation of true partnerships over their multiple exhibitions. These artists have previously exhibited in both NYC and Hudson—with much success. Isherwood's first exhibition was in Regarding Arcadia (2008), and Pressman's in Making Their Mark (2011). Together, they represent SEFA's embrace of figuration and abstraction; of painting and paper; of landscape and mark-making; of color and minimalism. Their works span the gamut of SEFA's artists. Their solo presentations on the Lower East Side will be displayed on separate floors for viewers to appreciate the skill and uniqueness of each artist.

This exhibition will feature a number of new paintings and works on paper by James Isherwood in the street level Gallery. His vibrant landscapes interpret the world as he sees it—through his technicolor visions. Seasides and night skies mingle with architectural forms. His style as a painter is crisp and clear, yet boldly injected with fantastical colors. Often, strong horizon lines dominate the environments, and the man made structures are a stark yet alluring contrast to the surrounding nature. After recently completing a residency in Ithaca, NY, Isherwood is also producing more abstracted pieces whose colors are equally mesmerizing.

In Downtown Debut, Lisa Pressman will exhibit encaustic paintings and works on paper. The artist is widely recognized for her richly colored encaustics, which are made of pigmented wax that is heated and manipulated directly on the surface of the wood panels. Her newest series entitled "Meditations" shine with their jewel-like tone and finish. SEFA will also exhibit selections from Pressman's "Explorations" series, an evolution of her "Messages" works on paper. The artist's process here includes applying letraset text by rubbing it on the surface to transfer its fragments; burning and smoking the paper and sewing through it, often with red thread. Her approach is intuitive, and her gestures in the studio manifest a translation and interpretation of the beyond.