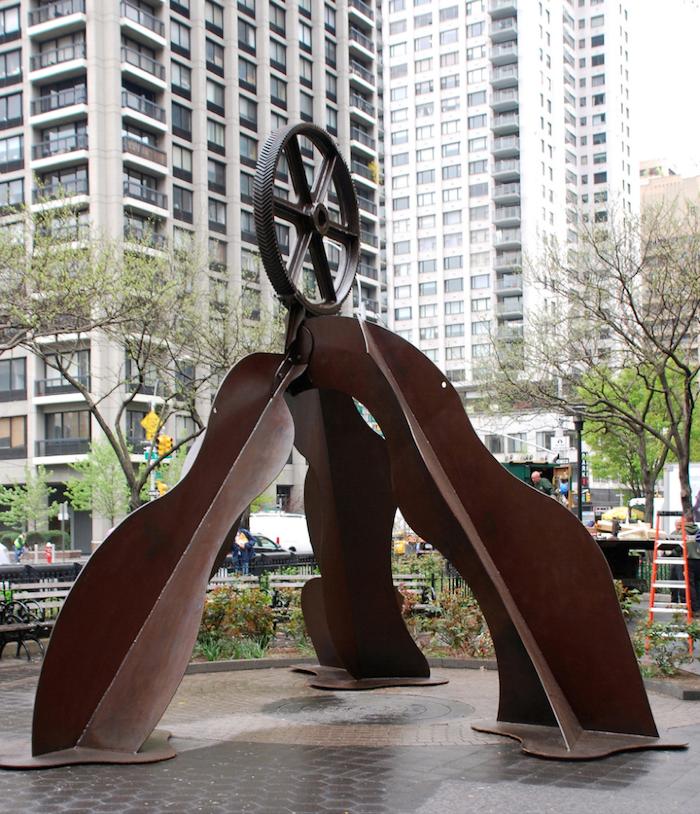 CAROLE EISNER AT TRAMWAY PLAZA
May 1, 2013 – April 1, 2014
NYC
Susan Eley Fine Art and the City of New York Parks & Recreation's Art in the Parks Program are delighted to announce the installation of Carole Eisner's monumental iron and steel sculpture
Hosea
in Tramway Plaza in Manhattan on April 29. The exhibit will be open to the public from May 1, 2013 through April 2014.
Tramway Plaza stretches from 59th to 60th streets along Second Avenue, and serves as the entrance and exit to the Roosevelt Island Tram.
Hosea
will be visible to tram users, cars coming off the Ed Koch Queensborough Bridge, pedestrians along the street and enjoying the park and from the surrounding residential and corporate towers.
The central feature of
Hosea
(2009), a 15-foot tall welded work, is an enormous railroad gear that is supported by a tripod of wavy steel legs. This gear refers beautifully to the working gear in the mechanical section of the tram, clearly visible from the park. The three legs, each about 10 feet tall, will straddle the central decorative paved element in the park and allow ample spaces to viewers to perambulate under and around the sculpture.